Old Adelaide Gaol Ghost Crime Tour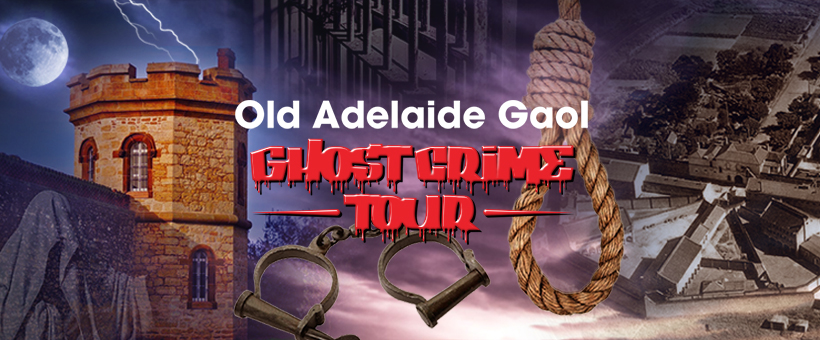 Duration: 3 Hours (approx.)
Location: Thebarton, SA
Product code: OAGGCT
This extremely haunted old Gaol was home to some of Adelaide's most hardened criminals, this prison housed inmates such as John Balaban, who was responsible for one of Adelaide's most notorious crimes.
Balaban went on a killing spree at the former Sunshine Snack Shop on Gouger Street (also known as Cane Corner), victims included his wife, and his step son Phillip, who was only 6 years old. When asked why did you kill the child, his response was along the lines 'well I didn't want the child growing up with out a Mother'. This madman was hung in the Gaol on the 26th of August, 1953.
Legend has it his ghost is still seen by guests and tour guides in the Gaol today…. We take you to his grave where the only marks that identify his remains are his initials on the wall 'JB".
Listen to the tales of the 43 other condemned men who saw out their final days within the walls of the Adelaide Gaol. We take you to the gallows to see the hangman's noose and trapdoor that sealed the fate of these condemned individuals.
We tell you the sad story of Elizabeth Woodcock, who was convicted of poisoning her husband under tragic circumstances, and paid the ultimate price by being sentenced to death. Elizabeth was the first and only woman in South Australia to be lawfully executed, and this all took place within the cold stone walls of the Adelaide Gaol.
See where the prisoners had their daily meals, visit the exercise yard were violence often erupted, and get locked in a condemned mans cell and retrace their final moments before execution. Find out the areas where prison guards refused to do night duty, and hear the tales of footsteps being heard and keys being ratted from the staff and volunteers as their stories are re-lived.
Our tour guides show you footage of investigations conducted within the Gaol, and share the evidence of the afterlife that has been captured! So if you think you are ready to visit South Australia's most haunted establishment, then book now and secure your spot on the next Adelaide Gaol Ghost Crime Tour!